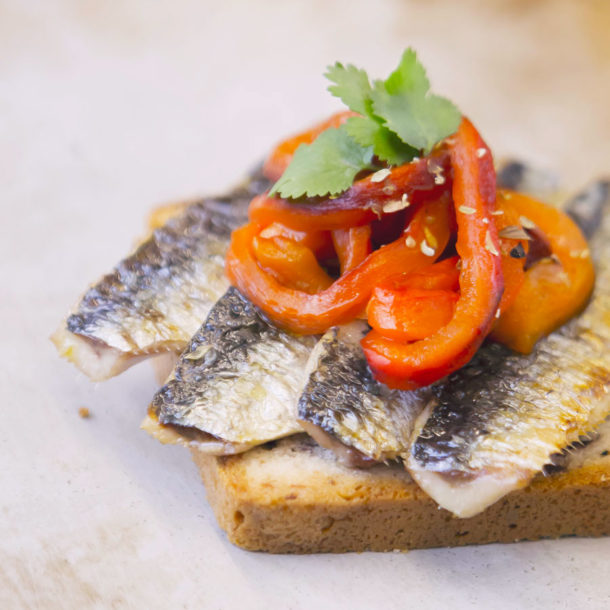 Sardine fillets grilled with fleur de sel and roasted pepper
Rediscover Ferreira's grilled sardines in this Portuguese-style tartine recipe. With simple ingredients, rich in omega 3, this recipe will make a light and tasty lunch or a healthy appetizer.
PREPARATION - 20 minutes
COOKING - 10 minutes
PORTIONS - 6
INGREDIENTS
8 fillets of sardine
1 red bell pepper
4 slices of olive bread (or other high quality bread)
40 ml of F olive oil (or other high quality olive oil)
5 ml of red wine vinegar
1 tsp of dried oregano
1 tsp of fresh coriander
Fleur de sel
PREPARATION
1. Roast the red pepper in the oven at broil (while rotating it once in a while) until flesh is tender and skin is blistered in spots. Remove the skin and the seeds of the bell pepper. Cut it in thin slices and season with olive oil, salt, oregano and vinegar. Set aside.
2. Set the oven to broil. Arrange the sardines (skin side up) on a cooking tray, drizzle with a bit of olive oil and sprinkle with Fleur de sel. Cook for 5 minutes.
3. Top the bread slices with the sardine fillets and the slices of pepper. Decorate with the fresh coriander.